REGULAR MEETINGS:
Date:
Second and Fourth Monday of each month
Time:
6:15 pm
Location:
Luciano's Restaurant, 103 W. Ludington Ave.
STANDING COMMITTEES 2007 - 2008

MEMBERSHIP


----
SIGHT & HEARING CONSERVATION


Bill Bowne

CLUB PROJECTS




Mike Stielstra, Al Hardman,

Jim Newkirk

MINT COMMITTEE


Lisa Weinart

PUBLICITY & INFORMATION
Frank Longmore
WHITE CANE CHAIRMAN


Mike Stielstra
OFFICERS and BOARD OF DIRECTORS 2007-2008

President Ken Manni
Vice President Al Hardman
Secretary Leslie Bowne
Treasurer Bill Bowne
Lion Tail Twister ---
Lion Tamer ---
For info, send email to:

(note: this is not a link, you have to type it into your email program)

Since 1935

Ludington, Michigan, U.S.A.

DISTRICT 11 - E REGION 1
ZONE 2
NOTE; Due to declining membership, numerous health issues and members moving away,
we are sorry to report that as of 6/30/08, the Ludington Lions Club will be disbanding.

Numerous historical items from our Lions Club have been donated to White Pine Village as a way
to preserve some of our history for all to see and remember.

We wish to thank all those persons and local businesses who gave us so much support.

Perhaps at a future date, a new Ludington Lions Club could form, to continue our tradition of
community service.

ONGOING CLUB ACTIVITIES
* Support Leader Dog, Welcome Home, and other sight-
related organizations.
* Provide white canes to those in need of one
* Provide eyeglasses and exams to those in need.
* Food sales at West Michigan Fair; operate restaurant
* White Cane Day fund raising
* Support Circle-S Children's Ranch, Fountain, MI,
general building maintenance, supply Port-a-Potty,
provide & serve food at "Blessing of the Animals"
* Clean up & maintain local monument:
Pere Marquette monument & display at City Marina
* Active members of our community,
promote good fellowship and good citizenship
* Create & maintain Ludington Lions Club website
SOME PAST CLUB ACTIVITIES (COMPLETED)
* Donated $10,000 to support local Skate Park (first donation, kicked-off fund raising drive)
* Iditarod fund raising activities (presented $18,500 to Leader Dog School)
* Sponsored Peace Poster Contest, awarded certificates and prizes
* Sponsored Hearing Test van at local Health Fair
* Sponsored a Core 4 LCIF Grant for a Habitat for Humanity house in Ludington
* Provided Optelec Clearview model 517 Video Magnifier for the Ludington Library
* Provided a Voice-it-All - color, money identifier & voice recorder ($249.95)
and a Talking Blood Pressure Monitor ($149.95) to a deserving local person.
* Contributed $500 to sponsor a building at Historic White Pine Village, Ludington
* Conducted a spaghetti supper to raise money to purchase a $2750 video projector for our Fire Department
Click here to see the Spaghetti Supper announcement

CURRENT "SPECIAL" PROJECTS UNDERWAY
* Support Circle-S Children's Ranch; providing a porta-potty, general repairs,
renovating future "Museum" area
* Sponsoring a building at White Pine Village
* Per Marquette Memorial: arranging for new electrical power routing, arrange for glass replacement
* White Pine Village sponsorship activities
* Sponsoring a leader dog in training being raised by our newest member, Heather
HERE ARE A FEW PHOTOS OF PAST ACTIVITES: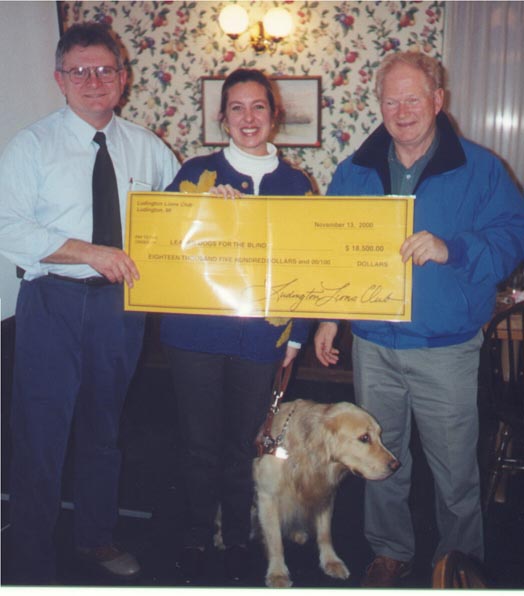 Nov. 11, 2000: Ludington Lions present a check for $18,500 to the Leader Dog School for the Blind of Rochester, Michigan. Lion Al Hardman, on the right, competed in the 2000 Iditarod Race in Alaska, an numerous fund raisers were held in conjunction with this.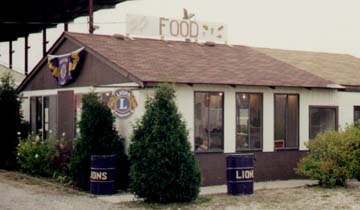 Each year, the Ludington Lions operate this food building at the West Michigan Fair. For the 2001 fair, we earned a profit of $4823.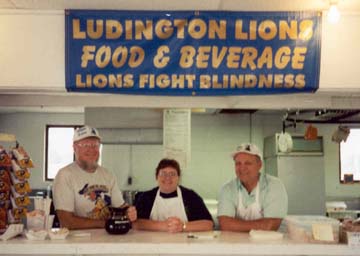 Action at the West Michigan Fair, 2001. Shown (left to right) are: Frank Longmore, Lori Longmore, and Dean Parker. We served some breakfast food, a varied menu of lunch items, and a different dinner special each day.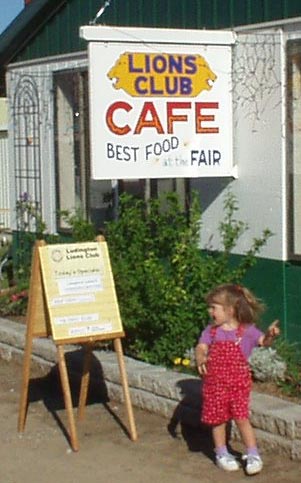 One of our younger customers "points the way" to good food. For 2003 we and the Fair Board made many improvements to the restaurant building, including a new sign.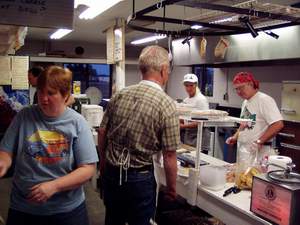 An action photo from 2005. Left to right: Lions Gary, Lisa, Mike, Leslie, and chef Bill.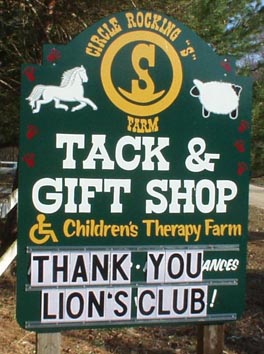 This March (2004), Lions Bill Bowne and Frank Longmore went out to the Circle Rocking S ranch to do some construction and general repairs.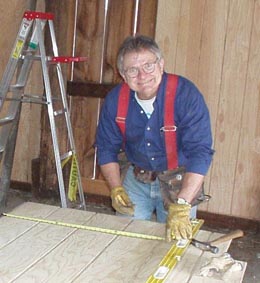 Lion Bill "measures once, cuts at least once"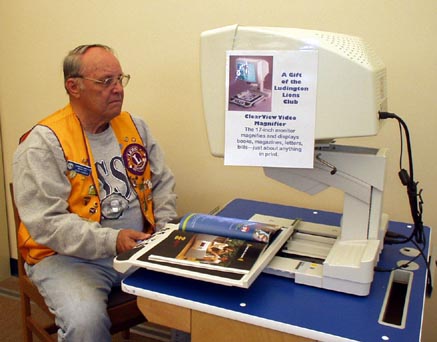 Lion Dean tries out the new Optelec video magnifier we bought for the Ludington Library. Since then we have assisted several other pesons in selecting and obtaining such devices.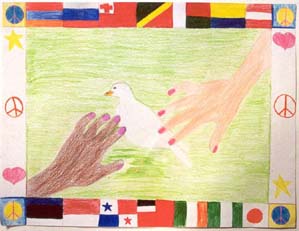 This was the winning entry in our local (Ludington) Peace Poster Contest for 2001. It competed up to the District Level. We really enjoyed judging the great entries we received.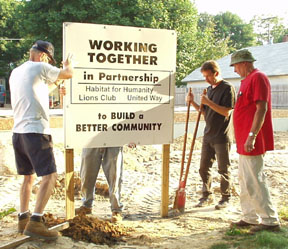 A major project for 2002 was that we sponsored a grant from LCIF to build a Habitat For Humanity house here in Ludington. It was a great experience for all. A big thanks to Lions Lori Longmore and Leslie Bowne for working through the grant application process. Hardman Construction (Lion Al) provided the site excavation, Westshore Welding (Lion Bill) did some welding of beams, and Lion Frank Longmore was voted Habitat Volunteer of the Year. Thanks also to our great local newspaper, the Ludington Daily News, for their fine coverage of the process.

Groundbreaking was June 2, 2002, and the house was completed and dedicated November 17, 2002.
To see a complete photo history of the house construction, click here.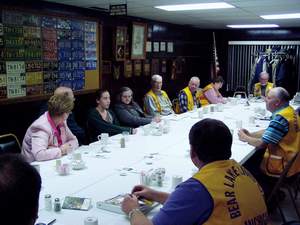 At a zone meeting, our newest member, Heather, talks about the future leader dog she is currently raising.

this page last updated 6/28/08